Receive
20%
OFF
on our
BACK TO SCHOOL
items.
----------------------------------
PACKiT - Insulated Lunch Bags that Revolutionize Lunch Boxes | Cold for 10 Hours
Revolutionary Cooling Technology

Bye-bye ice gel packs that only last for 2 hours.

The bag is your icepack

, and it stays cold for up to 10 hours. Conveniently sized at 8"x10"x5" (8"x5"x2" folded) the Packit is easy to fit in your freezer or take on-the-go.


Healthy, Fresh Food Anywhere
Packit's not just for lunches. Use it for baby bottles, sports events, travel...anywhere you need to keep items cold. It's non-toxic, sweat-proof and PVC and lead-free, so you don't have to worry.

*Available in aqua and red colour.

PACKiT Website

---------------------------------------------
The Anti-Bottle: A Foldable Water Bottle?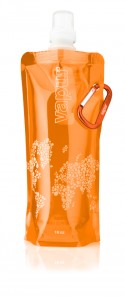 Reusable

Vapur Anti-Bottles are completey BPA-Free and are constructed of three layers of ultra-durable plastic. The innermost layer is made from FDA-approved polyethythene, which is then bonded to two layers of nylon for strength and durability. The inner layer is odor, taste and stain resistant, so it can safely be reused again and again! Vapur is also proudly made in the USA.


Foldable

The Anti-Bottle is designed to stand when full and can be rolled, folded or flattened when empty, making it easy to use and carry everywhere you go.
The Vapur Anti-Bottle is dishwasher safe and cleans easily on the top rack of most dishwashers. First, remove the cap and carabiner, blow a little air into the bottle to inflate, then simply turn upside down and insert the spout over the prongs on the top rack of your dishwasher. It's that easy!
You can freeze your Anti-Bottle for nice cold water or use it as an icepack! Fill your Anti-Bottle half-way, place it in the freezer overnight and then fill it the rest of the way with water in the morning.

Greenciles | Environmentally Friendly Pencils made from Recycled Newspaper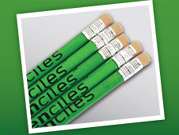 • Made from 100% recycled paper
• Comes in pack of 10
• Standard 2HB pencils
• No wood products are used in
making Greenciles®
• Great for all uses: writing, drawing, sketching and drafting
• Synthetic erasers

Greenciles Website

---------------------------------------------
Eco Staple Free Stapler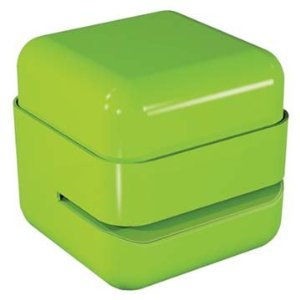 Each year billions and billions of metal staples are manufactured in pollution-spewing factories. And each year most of these end up on landfills, causing further harm to the environment.


The Eco Staple Free Stapler cuts out a tiny strip of paper and uses it to "stitch" up to four pages together.
No metal staples.

No paper waste.

Shredder friendly

Child safe.
* Available in orange, pink, blue, green, red, clear, black and silver.

---------------------------------------------


Ecojot - eco savvy paper products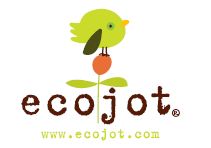 Ecojot is an eco-friendly stationery brand that is based in Scarborough, Ontario created in 2007 by designer Carolyn Gavin, her brother Mark Gavin and family.

They we are committed to giving back one journal at a time. The "
GIVE
" program started in 2010 and uses a simple premise: With the sale of each 5x7", Jumbo journal and all eco sketchbooks, ecojot will donate a school workbook or pencil to a child in need. Learn more about our BUY 1, GIVE 1 program

.

Sanctus Mundo
- Plastic-Free Products -
Earth Friendly Food Containers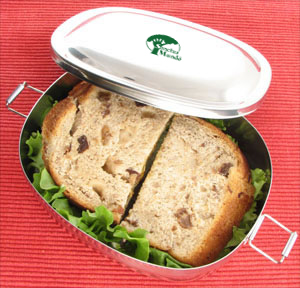 Sanctus Mundo
is a brand of products that contain little, or no plastic at all. Products are carefully selected for their high quality and durability, and are manufactured ethically with concern for workers, quality, safety and the environment.

Products bearing the
Sanctus Mundo
brand have been tested for toxins, and all children's products are certified compliant with the United States Consumer Product Safety Information Act (CPSIA) requirements for lead and phthalate testing.

We have 5 different sizes of containers, oval sandwich container, hot meal container and children's bowl and dish sets.

Sanctus Mundo Website

------------------------------------------


ClementineArt


Clementine is art you can feel good about. Their high quality art supplies are all natural, certified non-toxic, and environmentally friendly. Clementine Packaging is made out of 80% post consumer recycled and reusable materials.

We have modeling dough, natural crayons, non-toxic glue, rock crayons (top seller), markers and paint.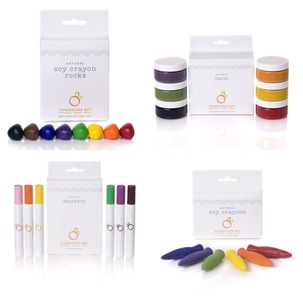 Abeego - Food Storage, Loved Naturally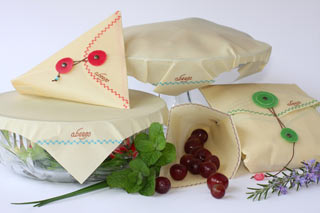 Abeego
is natural, reusable, eco-conscious food storage created with hemp/cotton fabric infused with a blend of beeswax and plant extracts. The fluid-resistant coating keeps food fresh and is easy to clean. Simply hand wash
Abeego
in COLD, soapy water and enjoy the long life of this breathable, plastic free innovation. Three styles to choose from: Abeego Wrap, Abeego Snack and Abeego Square.

Abeego Website

-------------------------------------------


Water
Geeks -
Stainless Steel Water Bottles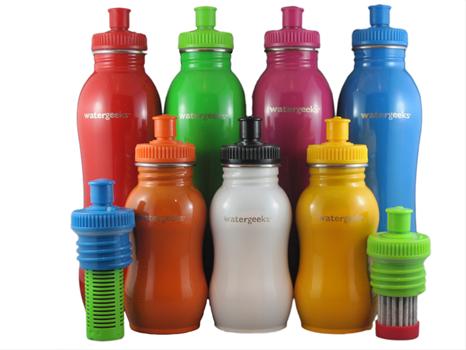 - available in 2 sizes: 12oz and 24oz
- made with unlined, 18/0, food grade stainless steel
- wide mouth for ice cubes and easy cleaning
- ergonomic, curved design
- lightweight, easy to carry
- non-leaching
- BPA-FREE & Phthalate FREE
- fits most cup holders




Water
Geeks -
Tap Water Filter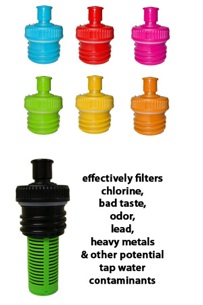 - each filter will last for up to 800-12oz servings
- includes 1 filter and 1 colored cap.
- non-leaching
- BPA-FREE & Phthalate FREE

Effectively filters: heavy metals, chlorine, taste, odor and other potential contaminants from tap water.


WaterGeeks Website